The Fleshtones' Wheel Of Talent  (Yep Roc Records 2014) is an album that has stayed near the top of my favorite sounds pile for the entire first half of this year, and it shows no sign of stopping that spin cycle anytime soon — if ever.
As resplendently crafted as albums can be, it still retains all the trademarks of what makes any Fleshtones album worthy: It is a chock-full barrel of potential Top-Ten hit songs and would-be chartbusters, or at least it is in the alternate cultural universe that I've chosen to call my listening world.
For myself and other fans with similar musical appreciations, this is a world where The Fleshtones truly are the legendary Solid Gold Sound  hit makers that their own self-labeled title "Super Rock" perfectly describes — a sound that is a specialty brew of raucous soul, rock and roll, trashy Farfisa organ, garage rock, fuzz punk, and funky glam.
.Into their fourth decade as a band, I have enjoyed The Fleshtones both on record and live for years, and even had a chance to have my band open for them years ago once in New London, CT at the famed El & Gee Club. This was a brief period for the band that saw Fred Smith from Television (!) filling in as their bass player. I recall spending most of the night talking to the extremely laid back Mr. Smith and marveling at how he managed to reluctantly join The 'Tones in their typical stage antics such as a human pyramid, spinning around and getting low on the dance floor — standing in those "Cold Cold Shoes" indeed.
Fans of the band who has seen The Fleshtones live, know that they always have been and still are one of the greatest acts live acts ever, and in my opinion that includes going up against anyone past or present.
Peter Zaremba at his mighty Farfisa.
Zaremba implores the crowd to GET DOWN!
Appearing alongside such luminaries as The Chesterfield Kings, The Fuzztones, The Plimsouls and Rain Parade on the essential Rhino box set Children Of Nuggets, and in the seminal 1981 concert film Urgh! A Music War, The Fleshtones have a stellar legacy and continue to roam the planet recording an
d performing live as if they were missionaries for what I like to think of as a part of the great Caravan Of Cool.
Keith Streng — A true Super Rock Living Legend.
Streng teaching the kids rock star bad habits.
What Little Steven Van Zandt has since coined The Underground Garage, this caravan is a vast cadre of musicians, singers, bands, DJ's, studio engineers and record labels that are dedicated to and continue to carry the torch of everything that is exciting ROCK and ROLL and all the permutations that Rock's history encompasses.
…and The Wheel Of Talent points to Ken Fox!
Bill Milhizer: The "Secret Weapon" and Robert Mitchum of the group.
While The Underground Garage umbrella term is a perfect match for 60's originated garage rock and all its related forms, so too does it manage to accommodate other musical styles and genres: great soul and r&b, psychedelic jewels, glam rock, power pop, proto punk, 1st generation punk rock — hell, even a little Rat Pack crooner swagger makes it into the mix. A band as genre defining as The Ramones shares equal space with James Brown and many other musical giants of all sounds and sizes. Along with these legends and unknown legends are the equally gigantic number of songs by decades of various artists that The Fleshtones themselves have covered over the years — a number that reaches into the hundreds!
The Woggles, The Dictators N.Y.C., Lyres, Barrence Whitfield and The Savages, Buzzcocks, The Hoodoo Gurus, Big Sandy, Shonen Knife, Los Straitjackets and Southern Culture On The Skids are only a few examples of the wonderful bands I'll always support. All are musical wonders who continue to relentlessly tour, record and release albums — with The Fleshtones standing proudly, even over this illustrious crowd — in their finest Powerstance — atop the very peak of The Underground Garage.
The Fleshtones' Wheel of Talent was previewed on Record Store Day's Black Friday of 2013, with a 7″ for the first single (and lead off song) from the album: a song called "Available."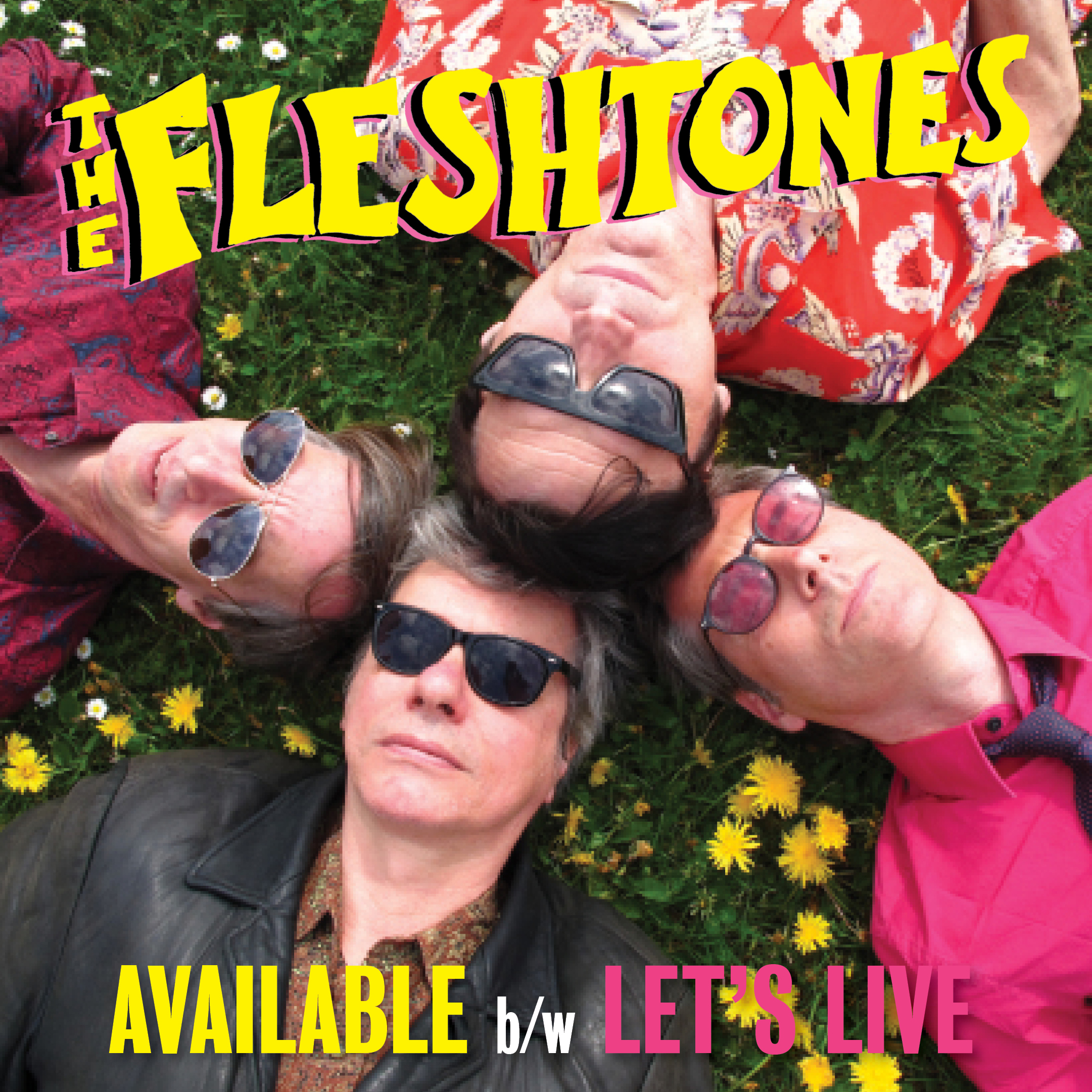 Meeting of the Minds?
This Keith Streng beauty showcases a sublime string section and lyrical observations that question how much emotional content actually exists in social media's omnipresence where every twit has to let everyone else know the minutiae of their day 24/7. Striking me immediately was the song's departure from anything the band had done before. This was a hint that here would be an album that was not intended to be a mere replication of their music performed live, but a bonafide listening album experience as well.
As this first track indicated, my theory was confirmed when I finally heard the entire Wheel of Talent album and I knew that The Fleshtones were not taking an easy route to album making. Instead, while still capturing their trademark "Living Legends" top shelf live performance excitement, they have delivered the jackpot. Listening to this album as much as I have now, it already seems like a collection of greatest hits, and that is said without any hyperbole, as each track soars like a collection of singles with no misfires from beginning to end.
Wheel Of Talent was recorded in Detroit, where it was produced and engineered by the legendary Jim Diamond, who has indeed crafted a musical diamond.
The LP kicks off with the aforementioned "Available," whirls into the careening tornado rocker "What You're Talking About," then gyrates into the autobiographical instant classic, "It is As It Was."
No time to take a breath however, as "Remember The Ramones," is next.
This song is a superbly fitting tribute (and now a bit poignant, especially in light of the last original Ramone, Tommy's recent passing) from guys who were there in the nascent days of the NYC punk rock scene. Chances are good that it will remain a live staple in every Fleshtones' setlist.
Had enough zip by the fourth track? No rest for the weary as it's time for Keith Streng's "Roofarama," an album highlight of incendiary rock and roll that skyrockets the listener into the cosmos with very wild Streng string action. It's kind of like an atom bomb T Rex.
From this point on Wheel Of Talent showcases a high quotient — make that a brainiac level — in variety of styles and moods: 60's Carnaby Street fashion eccentricity in "The Right Girl," a lovingly sentimental sing-along, "What I've Done Before," hauntingly beautiful Baroque art rock elegance on the string laden "How To Say Goodbye" and then it's deservedly a woman's, woman's, woman's world for the campfire acoustic guitar strumming and bongo delight delivered by Mary Huff (of Southern Culture On The Skids) as she takes a lead vocal spotlight on "Just For A Smile."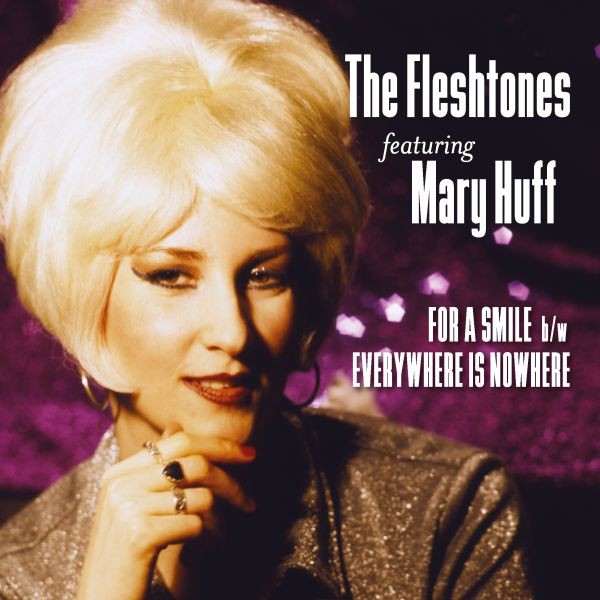 "For A Smile" was also released as a single, The Fleshtones featuring Mary Huff although  Peter Zaremba preferred it had been released as Mary Huff and The Fleshtones.
This 7″ was sold on the Mondo Zombie Boogaloo Tour, a 2013 Fall tour dream come true extravaganza that featured The Fleshtones, Southern Culture On The Skids and Los Straitjackets sharing a bill to support their outstanding Halloween compilation of the same name.
Somber frustration, bitter questioning and sadness in what seems to be dealing with the aftermath that comes from the death of a loved one might be a departure in lyrical content from any past Fleshtones song, but in "Stranger In My House" Keith Streng manages to turn the emotions into a powerful original work that reminds me of some of the greatest songwriting that you might find in the brilliant country and western writing of say Johnny Cash or George Jones. Yet another middle finger to all Fleshtones' detractors who have pigeonholed the band for years as lightweight party, good time Charlies with no sense of depth.
Another strength the Fleshtones have always had is reworking covers to make them their own, especially when it comes to taking some classic 60's garage fuzz and giving it the Rock en Español treatment as they do on the Music Machine's "I See The Light" which the band has covered for years and now has turned into the fantastic "Veo la Luz." Who ever said these alchemists can't turn gold into a diamond?
"Hipster Heaven" does indeed recall The Fleshtones of old in its speed trials pep and a healthy dose of snappy sarcasm and the final LP track, "Tear For A Tear," closes the album with a great early 60's sounding upbeat chestnut. The song seems to be modeled after something that might have appeared in the Kim Fowley songbook with lover's revenge lyrics like "I'm gonna make you cry, until your eyes run dry, I'm gonna make you pay, baby baby, tear for a tear."
The Fleshtones are truly one of the greatest bands on the planet. They are still approachable, funny and have an ability to turn out a gem of an album such as Wheel Of Talent. There are no bad albums or bad live shows by The Fleshtones, just varying degrees of exclamatory, celebratory superlatives. They are a band that brings a smile and a resounding "Wow!! I love those guys!" by countless strangers who happen to see me wearing one of their T-shirts.
Handsome Dick Manitoba, who is none other than the legendary iconic frontman for the seminal CBGB's band, The Dictators (now touring and recording as The Dictators NYC ) — an incredible group who always do an outstanding cover of The Fleshtones' "American Beat" in their live sets as well — gave me some beautiful, admiration filled words about The Fleshtones:
"The Fleshtones to me embody what a truly great rock 'n roll band should be all about. They love what they do and they're going to do what they do regardless. They will make records, they will play live, they will travel and entertain the masses. I love them, I respect them, I admire them."
The Dictators NYC  featuring L-R: Daniel Rey, Dean Rispler, Handsome Dick Manitoba, Ross "The Boss" Friedman and JP "Thunderbolt " Patterson.
Then there is "The Professor" Mighty Manfred, the microphone stand twirling, tambourine shaking, energy bolt / frontman for the astoundingly explosive rock and soul danceathon foursome from Georgia, The Woggles, who had this to say about The Fleshtones:
"Jon Landau once said something to the effect of 'The Remains are how you told a stranger about rock and roll.' To me, The Fleshtones are how you get that stranger to listen to and love rock and roll."
The Woggles featuring L-R: Buzz Hagstrom, Dan Elektro, "The Professor" Mighty Manfred and Flesh Hammer.
The Powerstance!  L-R: Ken Fox (bass, vocals), Keith Streng (guitar, vocals), Bill Milhizer (drums, vocals) and Peter Zaremba (vocals, Farfisa organ), are The Fleshtones. Photo © 2014 Emily Seah
I had the honored opportunity to talk with Peter Zaremba a bit about Wheel of Talent  as well as a few other Fleshtones related topics…
Peter Zaremba
RJ: For a year or more you guys have been doing a live Wheel Of Talent shtick in your shows, where did this originate and how did that become the title of your new album?
PZ: The Wheel Of Talent just sort of happened during a show. All sorts of unplanned things happen when we are on stage. We started spinning around and when we stopped, I pointed to who would sing the next song. Hence the Wheel Of Talent. I think Keith said it would be be a good title for our new album.
RJ: Instead of individual songwriting credits, all the songs on Wheel Of Talent say written by The Fleshtones. Is this album more of a group writing effort?
PZ: No song writing credits, really? Well, it's usually a group effort as far as arranging stuff but these days we usually bring more or less completed songs to the band. We don't have the time hanging around together like we had at the 'house' or the 'music building'. That said, The Fleshtones' stamp gets smeared over every tune!
RJ: I really admire the use of strings on "Available" and "How To Say Goodbye." Immediately I heard a Roy Wood of The Move (and the first Electric Light Orchestra album) thing going on, where it's a heavy cello/violin, rock kind of presence. At a live show recently, Keith Streng told me that was in fact, his intention. So is expanding The Fleshtones' sonic palette, something we can look forward to with future recordings?
PZ: Yes indeed it was Keith's intention to use strings in the Roy Wood manner, that is as a rock component and not to 'sweeten' a song. I think it worked great. It's fun to finally be able to do things in the studio that we always wanted to do, and have it turn out right! As far as a new direction, We shall see. Perhaps we shall react against this and go super-heavy on the next album.
RJ: For "The Right Girl" I was trying to figure out your vocal style. I heard a non-monster, wealthy actor Boris Karloff in a smoking jacket, sitting by a fireplace in his home library thing, which is a compliment. You told me recently, it was you channeling early David Bowie, channeling Anthony Newley. I really love the song. Why did you come up with this vocal for that song?
PZ: Haha! I wasn't thinking of Karloff but that's great. I WAS thinking of a Spanish-speaking Karloff, or at least a Bobby Pickett, when I did the Spanish vocal for Lost Straitjackets' 'Que Monstruos Son' on the Mondo Zombie Boogaloo LP, Now, back to 'The Right Girl,' yes indeed Bowie channeling Newley as he did on his early recordings, or even more channeling Gene Pitney in his super self-pitying lyric style. For a while we used to play his recording of 'Back Stage' after each of our shows, the outer limits of his weepy self pity. We should start doing that again. Anyway, this song just came to me fully-formed while I was dusting our bedroom, fake Gene Pitney/Bowie/Newley voice and all. Maybe I should dust more often. The room could use it!
PZ: Well, as I tell people who ask me to sign the book, I'm just a character in it, like having Winnie The Pooh sign a book or something. That said, of course I get off on the fact that people write books about me, even if I have to be in The Fleshtones for 38 years for them to do it. It Is As It Was!
RJ: "Remember The Ramones" which has become an audience favorite, has been in your set list for a while. When I first heard it, I could not wrap my head around how you break up the words with "Remember" as "Remem…ber the Ramones." Then it snapped in to become unforgettably catchy.  How did you work this magical phrasing?
PZ: Haha, once again, this was something that popped into my head at an unlikely time, in this case mowing a big lawn. By the time I finished the lawn, I had the whole song, after all, it's just the story of us going to see the Ramones and what that meant to us at the time.
RJ: Yep Roc Records really seems to have become such a great fit for The Fleshtones. Is this because they seem to be music fans first and and that creates less pressure than some labels you'd been on in the past?
PZ: We couldn't be happier, Yep Roc is the best!! Music fans they are, which is their key to success, if not ours. In fact, we met the Yep Roc guys when they were still in college, They had hired us for an all out 'Animal House' style frat party at their school. In the course of the night, Glenn Dicker said his dream was to someday start a record label so he could sign bands like us.
RJ: We observed that when you guys play the cover of "Laugh it Off" some audience members start making out? Do any other songs elicit particular audience responses?
PZ: I never noticed that. I thought people were just laughing. They also like the clapping part. But making out? I'm impressed! Anyway, that is from one of my favorite Fleshtones' albums, 'More Than Skin Deep.'
RJ: In my opinion, bassist Ken Fox's song "Better Days" (also from More Than Skin Deep) is a classic song and up there with all the greatest Fleshtones' songs. Could he be the George Harrison of the band, just waiting to break out with a triple album masterpiece?
PZ: He might make that triple album sooner than we think. At any rate, his songs are a great addition to Fleshtones' LPs. People, me in fact, can only take so much of Streng and myself screaming before they need some relief. He should come up with more tunes!
RJ: Any future goals for The Fleshtones? I am still waiting for the big box set.
PZ: Future goals? Now that it's so much fun to do, we'd like to make more records. Also like to play the many parts of the world that we have yet to perform in like Japan and Russia (although I have preformed twice in Russia with The Cavestompers), as well as return to Mexico. And the box set? Sure, that would be nice. We'll start with trying to get our Ichiban albums like Powerstance, Forever Fleshtones and More Than Skin Deep, re-issued. That would be a start. Let the wheel of talent spin! Thanks for the great questions and see you…!
RJ: Best of luck, see you soon and thanks, Peter!
The Fleshtones Wheel Of Talent is available through all fine retailers and directly through Yep Roc Records.
You can also support The Fleshtones at their official Facebook page.